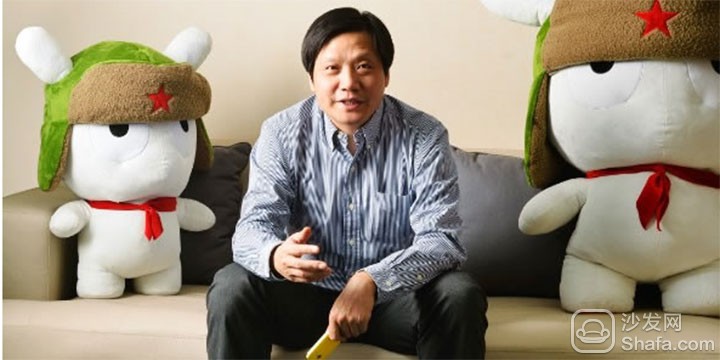 Who is the fourth largest Internet giant outside BAT?

A year ago, the answer to this question was still hovering between Chihu 360 with a market value of 10 billion U.S. dollars and millet with a valuation of 10 billion U.S. dollars; a year later, the market value of Qihoo 360 was currently about 7 billion U.S. dollars, and JD.com exceeded its market value after the IPO. The US$30 billion has become a new pole for the Internet camp; Xiaomi's latest valuation is US$45 billion.

On the afternoon of December 29th, Xiao Jun founder Lei Jun finally officially announced a new round of financing on Weibo. He disclosed that Xiaomi's valuation was US$45 billion and the total financing amount was US$1.1 billion. Xiaomi's new round of investors includes investment institutions such as All-Stars, DST, GIC, Hopu Investment, and Yunfeng Fund.

Earlier, Xiaomi's insiders confirmed Xiaomi's sixth round of financing to the First Financial Daily. With a valuation of US$45 billion, Xiaomi will become China's fourth-largest Internet company, ranking behind Ali, Tencent and Baidu. In China's hardware companies, Xiaomi is almost equivalent to three Lenovo groups (current market value is about 15 billion US dollars).

Which investors are standing behind Lei Jun? What do they think of Xiaomi, which has caused Xiaomi to increase its value 180 times in four years? These are the topics most concerned by the industry.

Investors behind Lei Jun

Xiaomi maintains the rhythm of financing once a year. After almost every round of financing, its worth will be "triple jump."

In April 2010, Lei Jun and the team, Morningside Ventures and Qiming Venture Capital invested in Xiaomi. At the end of 2010, they completed a new round of financing. The investors have more IDG. The company has a valuation of 250 million U.S. dollars and has accumulated 41 million U.S. years of financing. USD; In December 2011, Xiaomi received US$90 million in financing with a valuation of US$1 billion; at the end of June 2012, Xiaomi announced financing of US$216 million with a valuation of US$4 billion; in August 2013, Xiaomi's new round of financing valuation 100 billion U.S. dollars.

This time, Xiaomi's valuation is US$45 billion, which is an increase of nearly 180 times compared with the valuation of US$250 million in 2010.

It is said that this time, Xiaomi's high valuation "scared away" some large investment institutions. The investment fund All-Stars, which is operated by Morgan Stanley's former Asia managing director and star analyst Shi Weidong, is a new face in the investment circle.

In March of last year, Ji Weidong, who had been working in the TMT for many years, left Morgan Stanley. At that time there were industry rumors that he joined the Hopu Fund. However, according to public information, he and Allen Star, former colleague of Morgan Stanley, formed the All-Stars and obtained a fund license at the end of last year.

Some foreign media quoted industry insiders as saying that the investment style of the All-Stars Fund is "friendly activist investors" and tried to influence technology companies by establishing links between technology companies and the wealth of individual investors that may help their development. .

It is worth noting that in May 2013, Ji Weidong was appointed as an independent director and member of the audit committee of the Gathering Times (YY). The Gathering Age is a company in the Lei Jun Department. Lei Jun served as Chairman and Director of the Gathering Times.

In addition to All-Stars, Ma Yun's Yunfeng Fund and even Happu Investment have all appeared in Xiaomi's investor list for the first time.

Yunfeng Fund was established in January 2010 and is named after the founder of Alibaba Ma Yun and the founder of Focus Media. The fund's partners include Shi Yuzhu, founder of Giants Network, Liu Yonghao, Chairman of New Hope Group, Shen Guojun, Chairman of Yintai Investment, and Jiang Nanchun, Chairman of the Board of Directors of Focus Media, and more than a dozen entrepreneurs.

At the World Internet Conference held in Wuzhen not long ago, Ma Yun was still fighting with Lei Jun and poured cold water on him. He said that air is not enough and water is not enough. What is the use of your Lei Jun mobile phone? Shortly thereafter, Lei Jun announced that he had invested in a startup company and made an air purifier. Earlier, Lei Jun's investment in UC was now captured by Alibaba and became the UC mobile internet business group.

The rumors of Miao Pu's investment in Zhong Weidong's departure from Morgan Stanley are also one of Xiaomi's current investors. The fund is managed by the famous investor Fang Fenglei.

Hopu Investment was once regarded as a "rich man in PE." The three founding partners were Fang Fenglei, the former chairman of Goldman Sachs Gao Hua Securities, Goldman Sachs, and Kenneth T. He, former chairman of the KPMG China and Hong Kong operations, and Wang Zhongxin, the former co-head of Goldman Sachs Asia Investment Banking.

Hopu Investment has invested in shares of many of the most compelling companies in the country, such as Mengniu Dairy, Yurun Food, China Construction Bank, and Bank of China. Before investing in millet, Hopu Investment's public investment in TMT was rare. In the middle of this year, Hopu Investment and Mou Xin Capital jointly led Mushroom Street to raise more than US$200 million in financing.

Compared with the new faces of All-Stars, Yunfeng Fund, and Hopu Investment, Singapore's sovereign wealth fund GIC and Russian investment company DST are the old faces of millet's multi-round financing.

For example, in 2011, Xiaomi had personal investment in DST boss yuri. Lei Jun said that the initial DST selection to vote, but this round of millet financing is over, DST too late to enter. Ultimately yuri insisted on personal investment in millet, and Xiaomi chose to accept it. Lei Jun's assessment of yuri was "very sharp and smart".

Why is it worth so much money?

What exactly has supported the high valuation of Xiaomi's 45 billion U.S. dollars?

The start-up company that launched mobile phones for more than three years is indeed fierce: In the first half of 2014, Xiaomi's tax-worthy sales amounted to approximately RMB33 billion, an increase of 149% year-on-year. With an annual production volume of 60 million units, Xiaomi expects 2014 full-year revenue to reach 80 billion yuan. Taking Xiaomi's valuation of 45 billion U.S. dollars, this valuation is almost three times more than expected this year.

In November of this year, international research organizations IDC and Strategy Analytics released the third quarter of the global smartphone market research report, which released the top five list of shipments and market share. In both reports, Xiaomi's mobile phone shipments and market share ranked third in the world, closely following Samsung and Apple.

For Lei Jun to summarize, what Xiaomi did in the past three years really studied these companies: Tong Ren Tang, Hai Dang Lai, Wal-Mart, and Costco. Doing the same thing as Tong Ren Tang. It is genuine and faithful. It serves users with sea fishing and learns more than expected. It learns operational efficiency from companies like Wal-Mart and Costco.

"The essence of business is high efficiency." Lei Jun once said to the First Financial Daily reporter. This explains to some extent the outside world's doubts about Xiaomi's low profits. Xiaomi is doing a low-margin operation with high efficiency.

In addition to its own growth rate, one of the reasons for the high valuation of Xiaomi is also related to its e-commerce status. According to the China E-Commerce Association's China B2C online retail market survey as of the end of June 2014, Xiaomi is already the third-ranking e-commerce company. The top two are Taobao Department and Jingdong Mall.

Regarding the question of Xiaomi's valuation, Lei Jun said recently: "An important investor is not looking at how much the company can be worth, but how much the company can earn in the future. This is different from a huge angle of thinking." I said that in September last year, Xiaomi's valuation exceeded 10 billion U.S. dollars. I couldn't understand how it was worth so much. I don't understand. However, investors believe that Xiaomi's investment in the future will earn enough money to consider risk factors. It is now worth 10 billion U.S. dollars."

Supporting the valuation of millet mad is not only the shipment of mobile hardware, but also the huge story of the ecosystem.

The person familiar with the internal affairs of Xiaomi interpreted the reporter of the First Financial Daily that the future Xiaomi can understand that: Xiaomi's mobile phone (including Xiaomi tablet), Xiaomi TV (including Xiaomi box) and Xiaomi's routers are the three major hardware core product lines. A millet", Xiaomi system MIUI and its construction of mobile Internet content and services ecosystem is equivalent to "the second millet", and Xiaomi plans to spend 500 million US dollars investment in smart hardware 100 companies will become the "third millet" . The establishment of a new pattern of millet ecology beyond Xiaomi's mobile phone, MIUI ecology, and mobile phones may also be one of the reasons supporting the valuation of Xiaomi's US$45 billion.

Although Lei Jun himself once denied in public occasions the existence of the "Lei Jun System" on the Internet, under the layout of many years, the "Lei Jun System" has already become the fourth largest force outside BAT.

There is no IPO plan in five years

While gaining a high valuation, Lei Jun has already completed the VIE (Variable Interest Entity) structure for future IPOs.

The First Financial Daily reporter found that after consulting business documents, Xiaomi's company includes several companies. Besides Xiaomi Technology, it also includes Xiaomi Communications, Xiaomi Electronic Software, Xiaomi Payment, Xiaomi Mobile Software, Xiaomi Software Technology, and Xiaomi Digital Technology. Company. These corporate legal representatives include Lei Jun, Li Wanqiang, Lin Bin, Liu De and many other millet executives. In addition, Xiaomi also has companies such as Xiaomi H.K. Limited in Hong Kong.

Xiaomi Communication, another subsidiary of Xiaomi, is a purely foreign-owned company. Business information shows that the company was established on November 24, 2010. On October 24, 2011, the investor in Xiaomi Communications was changed to Xiaomi H.K. Limited, and the amount of funds raised to 18 million US dollars; by August 2013, the amount of funds increased to 130 million US dollars.

It has been speculated that Xiaomi's platform company Xiaomi H.K. Limited in Hong Kong should be the subject of Xiaomi's overseas financing or operations and also a millet familiar to overseas investors. The reason why Hong Kong was chosen may be related to the listing of Kingsoft, the chairman of Lei Jun, in Hong Kong.

However, Lei Jun, who has completed the VIE architecture for the future listing, is not in a hurry to go public.

Lei Jun recently stressed to this reporter that "there are no IPO plans within five years", but this is not a guarantee. "Maybe Xiaomi's IPO after three years, saying that there is no IPO plan in five years is my mentality today."

Lei Jun admitted that he is now the controller and major shareholder of the four listed companies. Past experience tells him that there are many short-term investors in the listed company. When the company's size and stability are not large enough, the listing will bear a lot of pressure, making The long-term goal is distorted.

Lei Jun said that a friend gave him a word to give him a lot: insist on the original road. For an unlisted company, profits are not important, increase investment, do not engage in the market.

For example, for the rumors of the outside world about Xiaomi as a car, Lei Jun told reporters that doing business has its own boundaries of expansion. In the foreseeable 3 to 5 years, Xiaomi will not consider real estate and automobiles.

Recommended installation sofa butler, download address: http://app.shafa.com/