At the moment, Computex (Taipei International Computer Show) 2013, which is currently being exhibited at Taipei World Trade Center 1, Third Hall and Nangang Pavilion, is the world's largest computer information exhibition, which only includes 3C products including smartphones, tablets and home computers. Mainly, but there are also many front-end core technologies on audio and video development.
ATEN Acer Automation Technology, which uses digital information sharing, connection and switching as its core technology, has exhibited 4K2K HDMI splitters and extenders in Computex 2013. For "heavy" home video players, The weapon of constructing advanced audio and video system; in addition, with ATEN's cutting-edge advanced technology (such as converting HDMI signal to optical fiber transmission, the transmission distance can reach 20 kilometers!), it is applied to the home theater, and it is ultra-high frequency wide and ultra low loss. High quality audio and video guarantee.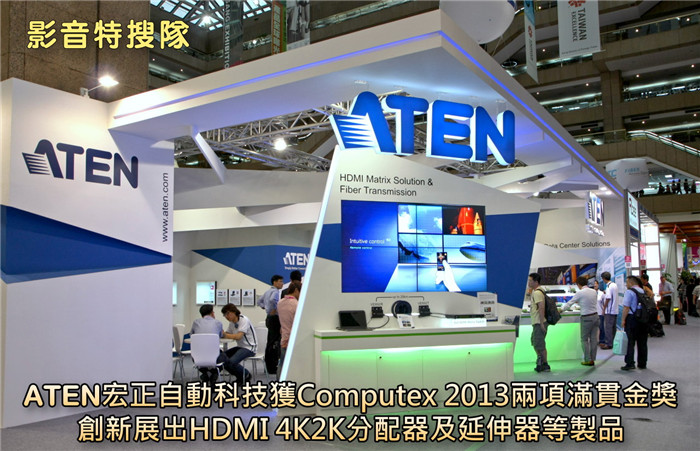 In addition, in the professional field, ATEN Hongzheng Auto Technology launched the EC2004 energy-saving box and KL1516Ai dual-slide LCD KVM over IP this year to win the double gold medal (Computex 2013 Best Choice Award and d&i innovative design award), also showed ATEN Hong is in the strength of product innovation technology and industrial design. Computex 2013, which was launched on June 4, only opened international buyers and media reporters during the previous few days. The general public will have to purchase tickets on the last day (June 8, this Saturday). Here we are the first to report the contents of ATEN's exhibition, so that readers' netizens can be listed as the focus of the exhibition on Saturday.
HDMI conversion fiber transmission distance of up to 20 kilometers!
The most prominent position of the ATEN booth is the HDMI matrix switching and ultra long-distance transmission technology.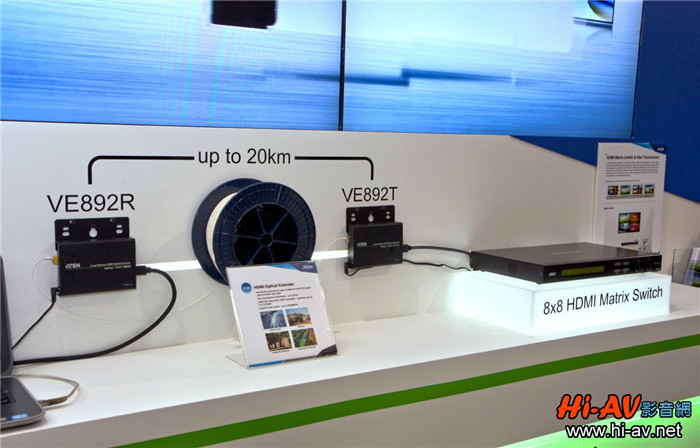 The VE892T (transmission) and VE892R (receiver) are the results of ATEN's two years of research and development. The former function is to convert HDMI video signals into fiber-optic sequence transmission, while the latter can convert optical signals to HDMI. The amazing transmission distance It can reach up to 20 kilometers, and it can be transmitted in both directions! (The booth display shows that the transmission fiber length is 2 kilometers)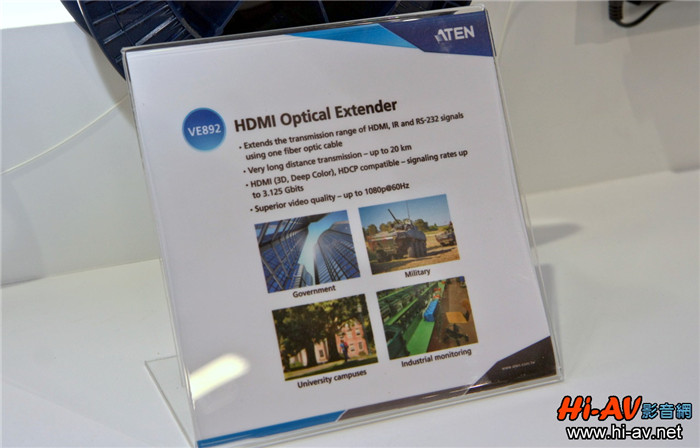 ATEN VE892 can correspond to HDMI 3D and Deep Color and HDCP, the transmission rate reaches 3.125Gbits, up to 1080p@60Hz, the main application areas include government agencies, military applications, university education and factory monitoring, etc., of course, the average family does not need to be so amazing. Long-distance transmission, but this has shown that ATEN's technical strength is strong. Since even a transmission of up to 20 kilometers can be obtained, the transmission of a few tens of meters in the home is certainly not a problem.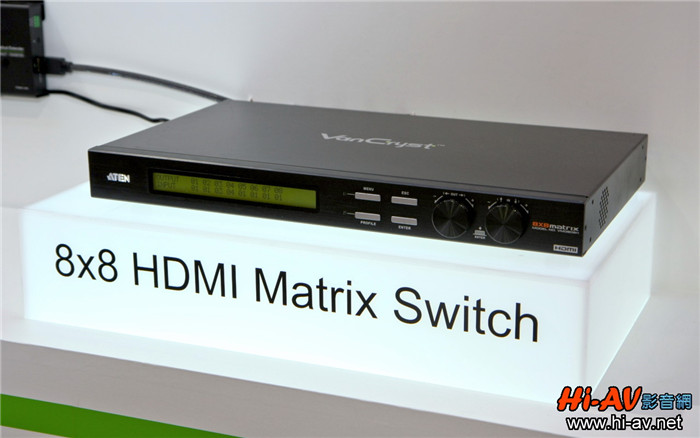 This is the ATEN VM0808H 8x8 matrix converter with HDMI eight-in and eight-out for matrix switching.
Corresponding to 4K2K professional audio and video solutions
On this long display stand, ATEN's professional audio and video products are displayed.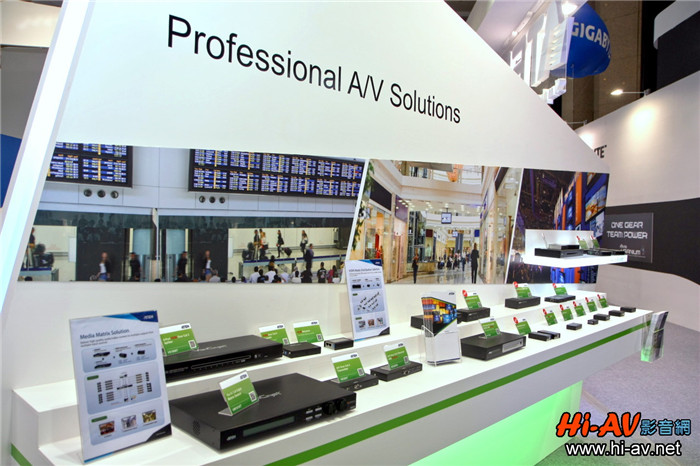 One of the corners of the industry's top equipment for 4K2K imagery is a self-contained area. The following figure shows the VE812 and VE814 that can convert HDMI signals and transmit them over long distances via Cat 5 Ethernet cable (transmission distance up to 100 meters) , corresponding to 4K2K image signal).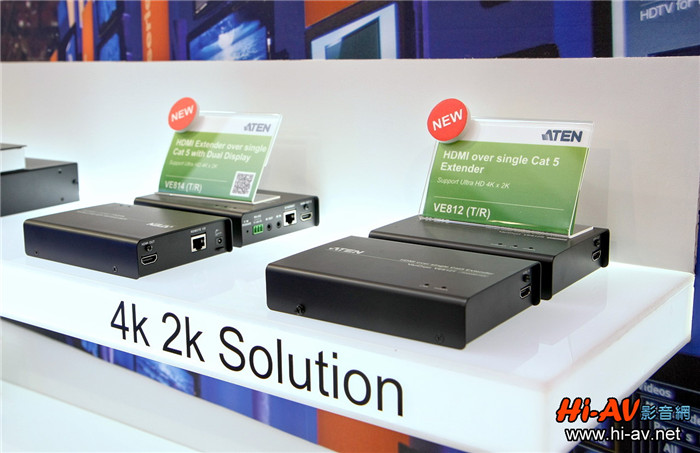 Here is the HDMI splitter that also corresponds to 4K2K, including VS182A, VS184A and VS0108HA of 2åŸ , 4åŸ  and 8åŸ , which can convert 1 set of HDMI input into 2 sets, 4 sets and 8 sets of HDMI output respectively. demand.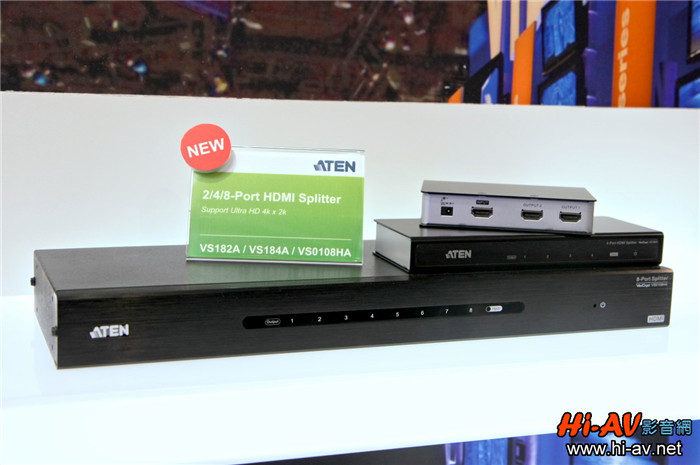 This compact and versatile VS381 is a switch that supports three sets of HDMI inputs and one set of outputs. Although it does not support 4K2K, it can correspond to Full HD and 3D images.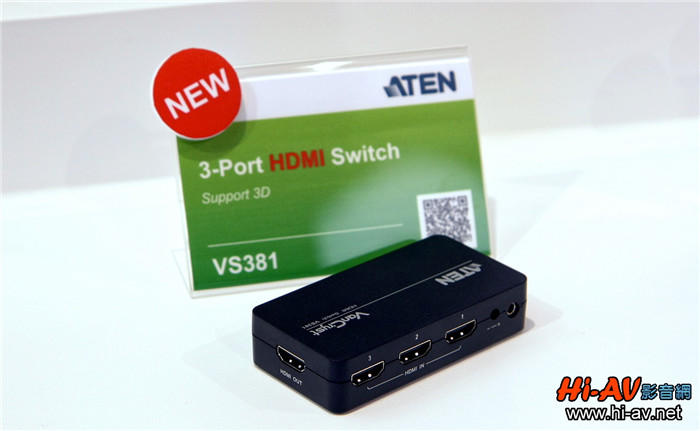 This is a great tool for extending the HDMI transmission distance. The VE800R on the right can convert HDMI to Ethernet transmission. The transmission distance of the Cat 5 network cable can reach 60 meters, which is enough in most home applications.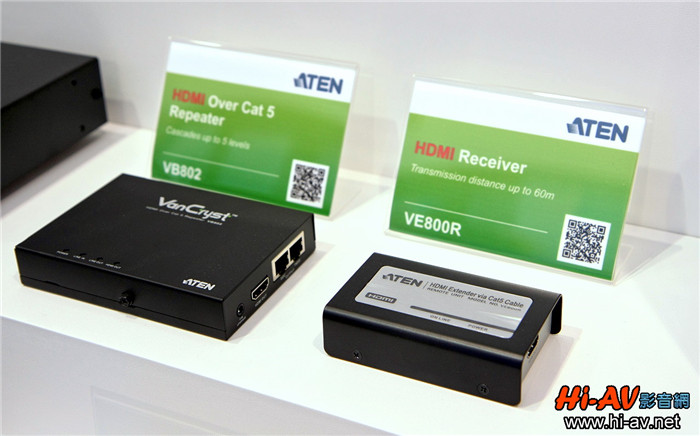 The front VC1080 is a universal AV audio-to-HDMI converter that converts chromatic aberration, composite video, S-Video and VGA to HDMI output, and built-in high-performance Scalar processing to improve picture resolution to Full HD. The sound part has optical digital, coaxial digital and two-channel analog output.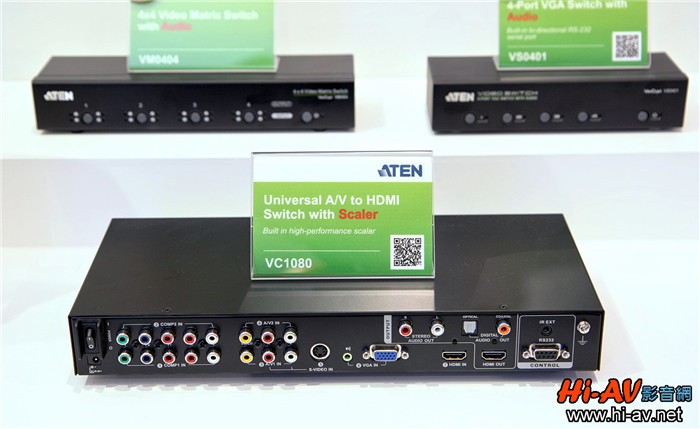 Generally not used at home, but ATEN's VGA, DVI and HDMI interface EDID simulators show ATEN's comprehensive technical strength.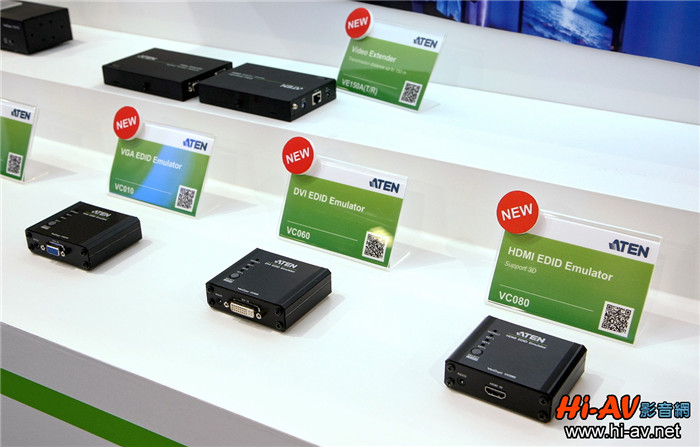 Other professional digital image management processing technology
In addition to products for home audio and video, ATEN has more imaging products for professional occasions.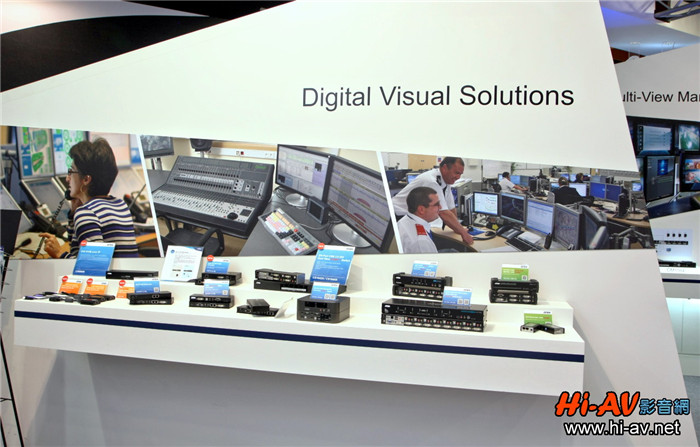 As shown in the kanban above, this is a KVM professional KVM switch that can be used in airports, customs, building security, etc.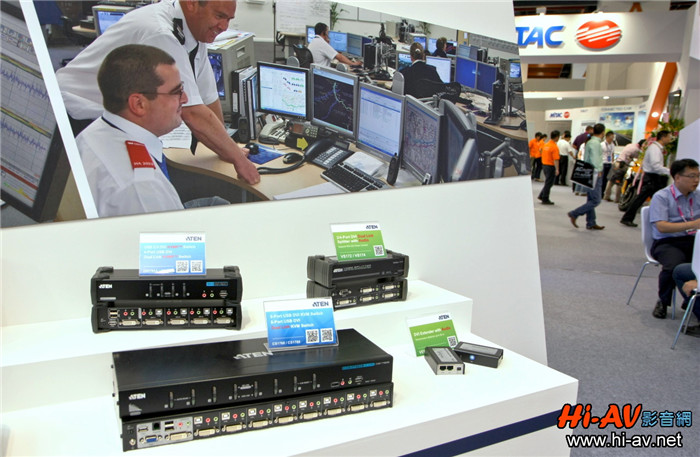 This is the KVM multi-computer switcher for Apple's Mini DisplayPort. The top is the two-inch CS1942. The bottom is the CS1944 with two more sides. The front is the touch panel, and the chassis is designed and sized to match Apple TV. The same, for occasions with multiple Apple computers (such as professional recording studios) is a tool to help increase productivity.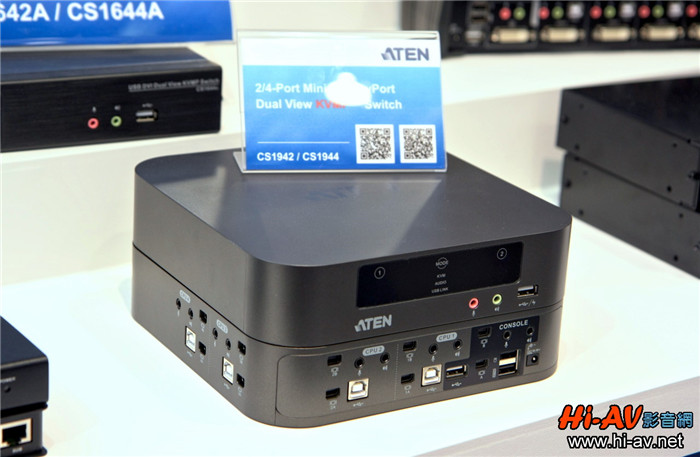 This is a demonstration of multi-window video management. The live display shows four windows at the same time. Not only can each window be arbitrarily adjusted, but also four window images (for example, from four monitor cameras) are simultaneously displayed dynamically.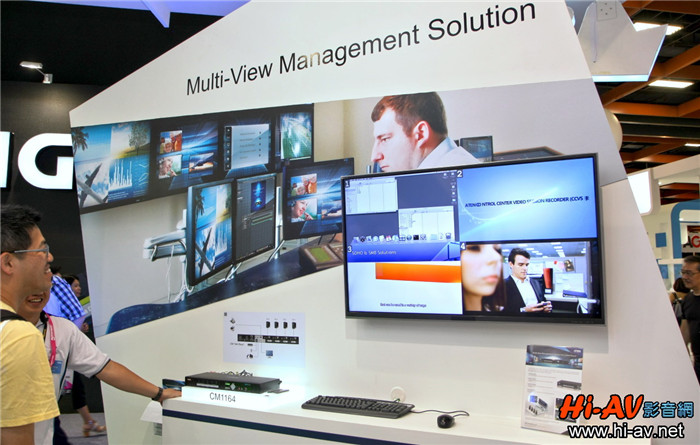 The main core of the display system is the following CM1164. The front end is connected to four personal computers at the same time, and the video content of the four is displayed simultaneously on the same screen.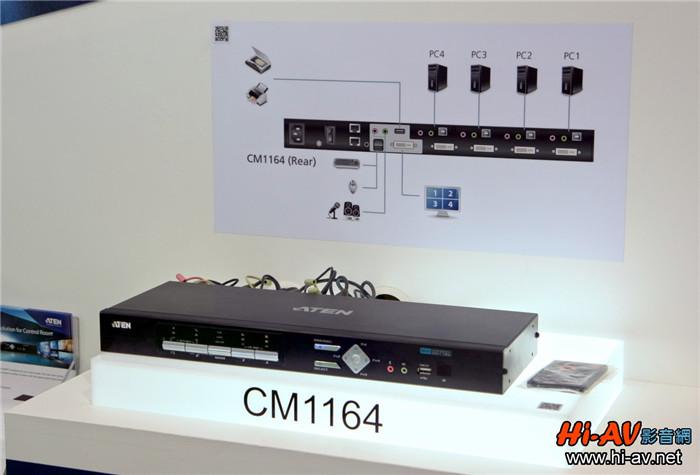 Smart PDU Expert with award-winning LCD KVM over IP
There is a product called "PDU Expert" in the corner of the booth. There is a lot of power sockets on the long strips. It looks a bit like an extra long power strip. The maximum number of sockets is up to thirty. One. That's right, simply say that they are indeed power strips, but they are super-smart power strips, which have Ethernet ports to connect to the network. Users can remotely monitor or even remotely connect the power switches of their appliances.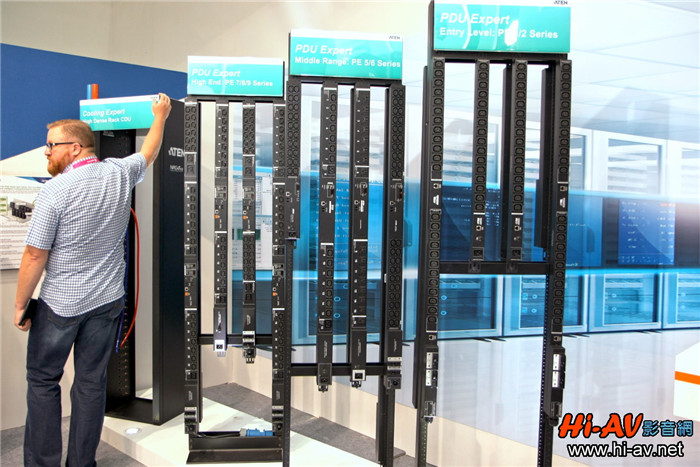 The entry-level PDU Expert can monitor the overall power consumption, temperature, etc., while the high-end models can monitor each outlet separately.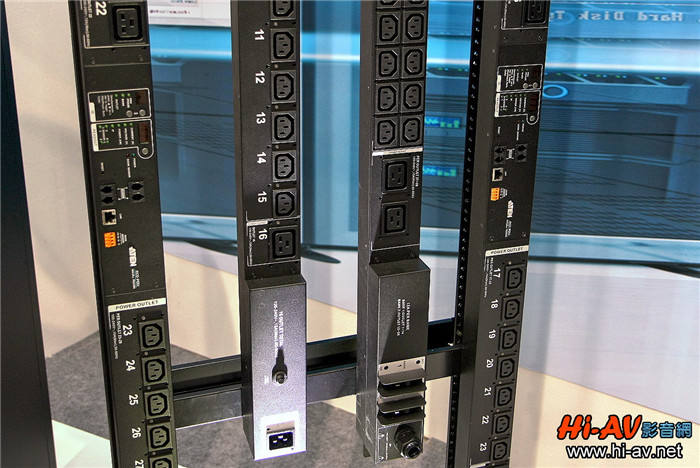 ATEN uses this cabinet to display digital information control solutions.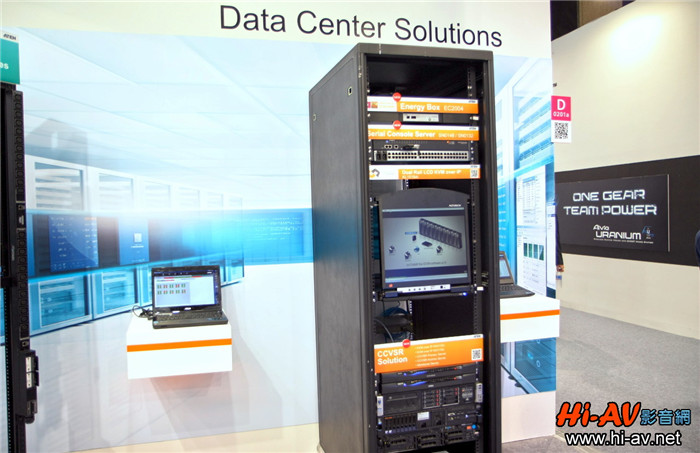 At the center of the cabinet is the KL 1516Ai, which won the "Best Choice Award" and "d&i Innovation Design Award" in this Computex 2013. It combines the functions of LCD screen, KVM and keyboard, and uses the slide design. When you fold it up, you only need to occupy one space (1U) of the cabinet. It is a very practical and innovative design for the valuable server cabinet.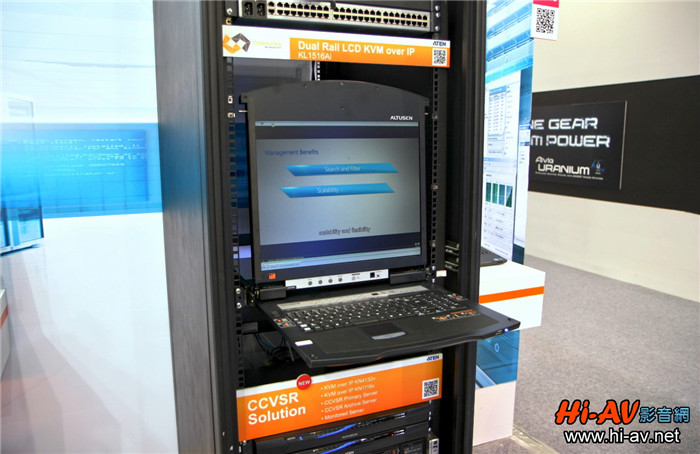 Award-winning ATEN Acer Automation Technology
Founded in 1979, ATEN International is a global leader in digital information sharing, connectivity, and switching. Since its inception, ATEN International has won awards and some lectures have been presented at the venue.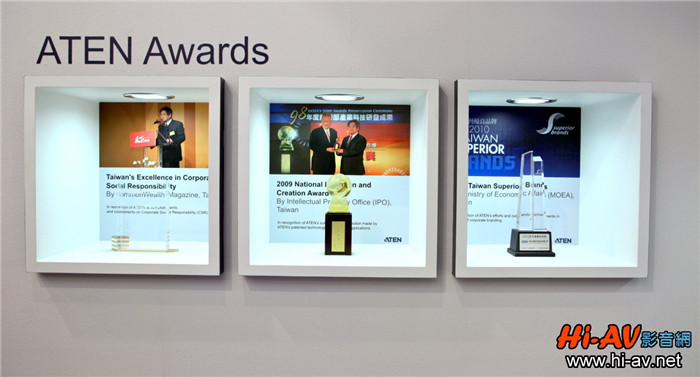 The ATEN EC2004 energy-saving box on the far left is also the product of this year's Computex 2013 double gold medal. On the right is ATEN's Taiwan Excellence Award and the German iF Design Award. The VM0808H 8x8 HDMI matrix switcher introduced at the beginning of this article. Also among them.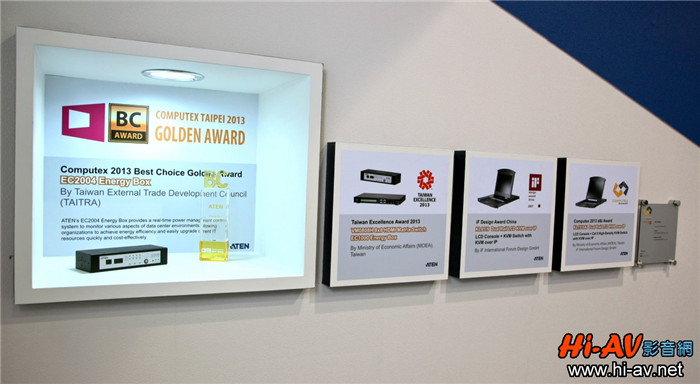 This is the medal that ATEN KL1516Ai won this year's Computex 2013 "d&i Innovation Design Award".
ATEN Hongzheng Auto Technology participated in Computex 2013 Taipei International Computer Show. The exhibition was held at D0201a, Taipei World Trade Center, 1 (the back of the GIGABYTE Gigabyte booth on the left side of the entrance of Xinyi Road, World Trade Center). Computex 2013 will be held from June 4th to 8th, and will be open for general public ticketing (full NT$200) from 9:30 to 16:00 on the last day (Saturday, June 8th). Please refer to the official Computex website for more information.
Juice Extractor Co., Ltd. , http://www.ns-kitchenware.com