In order to fulfill the promise of bidding for the Olympics (that is, to broadcast digital TV in at least 8 cities in China hosting Olympic games in 2008), China officially announced the first generation of terrestrial digital TV broadcasting transmission standard (DMB-T / H, which is now GB-2006 standard), and plans to formally enforce this national standard in early September this year. During the one-year transition period, all non-national standard systems must be transferred unconditionally to systems that comply with national standards. China is also about to release the national digital TV industry policy, which covers tax, investment and financing, industry, operation, supervision and other related policies, which clearly requires that each digital TV integrated machine sold in China must have a module to receive the national standard terrestrial TV signal .
There is no doubt that this standard will bring tens of billions of dollars of business opportunities to Chinese OEM and ODM manufacturers and third-party independent design service companies, and drive the formation of a new digital and mobile TV industry chain. Although there has been a lot of criticism in the industry since the standard was published, it has at least made the industry understand that other overseas standards (such as DVB-T) have no business opportunities in China.
In order to better grasp this business opportunity, American Analog Devices (ADI) and Legend Silicon Corp. (Legend Silicon Corp.) recently created a joint design laboratory in Shanghai, which will focus on providing a complete mobile TV front end Solutions (including from antennas, tuners, demodulator to MPEG-TS interface), so that Chinese OEM and ODM manufacturers can quickly develop mobile phones with unique and excellent performance that can receive China 's first-generation terrestrial digital TV broadcast signals TV products (including portable multimedia players, PDAs, PDAs, laptops, car displays and smartphones).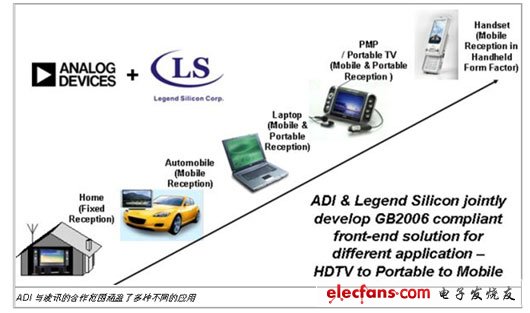 The joint design laboratory is led by Dr. Xiaolin Wang of ADI as chief technical expert and will lead more than 10 design engineers. The laboratory will make full use of Lingxun's demodulator technology and ADI's low-power radio frequency (RF) tuner technology. Lingxun's demodulator fully supports China's GB2006 terrestrial digital TV standard, which includes fixed and mobile applications. Demodulator technology can enable mobile terminal products to receive terrestrial digital broadcasting. Lingxun's demodulator uses a power consumption adjustment technology that can match the power consumption of the demodulator with the bit rate of the received broadcast signal to further extend battery life or reduce battery size in portable applications.
ADI's tuner also supports portable communications, computers and consumer electronics devices to receive digital TV and digital broadcasting. In addition, ADI is designing a low-power Blackfin processor to complete MPEG-2 decoding and multimedia processing functions. The combination of the aforementioned front-end reference design and Blackfin processor can help customers solve the requirements for power consumption, performance and time to market of digital mobile terminals. The laboratory will also support the complete system design developed in cooperation with customers.
"ADI is fully prepared to meet the needs of China's mobile TV program market," said Mr. Zheng Yonghui, executive vice president of ADI's Greater China region. "The opening of the joint design laboratory of ADI and Lingxun Technology will help this It is an important measure for regional customers to prepare for the rapid and substantial promotion of mobile TV services, and we are convinced that this will soon become a huge opportunity for market sales. "
"Lingxun Technology and ADI have worked together to develop the first receiving front-end solution based on a chip tuner to meet the needs of China Mobile and fixed digital broadcasting," Dr. Yang Lin, Chairman and Chief Technology Officer of Lingxun Technology Say. "The opening of Shanghai United Design Lab is another example of our insistence on promoting China Mobile TV services."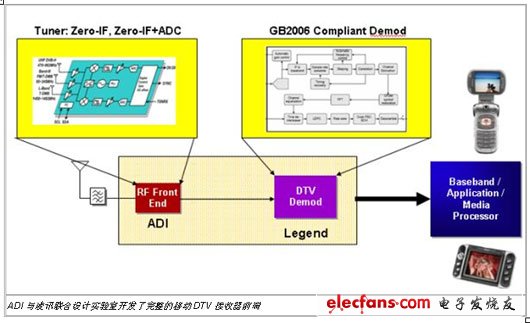 The current GB-2006 standard is mainly developed for fixed and nomadic terrestrial digital TV reception, although it also supports mobile reception, such as Dr. Wang Xiaolin said: "Lingxun Technology's GB-2006 standard demodulator GS-8913- A1 can provide excellent mobile reception capability under severe multi-channel interference conditions. The field test result in Shanghai is that the portable terminal based on Lingxun demodulator successfully receives GB-2006 digital TV broadcast clearly on a car at a speed of 200 kilometers per hour. signal."
However, Frontier Silicon, a British supplier of tuner, demodulator and baseband for the mobile TV market, expressed doubts about it. Its CEO Anthony Sethill said in an interview with this magazine: "Today, as claimed by ADI and Lingxun Excellent GB-2006 mobile reception performance can be achieved by using post-processing technology on the host (such as a laptop), which requires a lot of power. The real challenge is how to achieve a speed of 200 kilometers per hour on a mobile phone with a small-capacity battery Excellent mobile reception performance. "
Indeed, the latest generation of Lingxin's GB-2006 standard demodulator GS-8913-A1 consumes about 800 milliwatts of power in normal operation, plus ADI's latest GB-2006 tuner MTV102 consumes about 150 milliseconds Watt power, the latest RF front-end receiving solutions from ADI and Lingxun still need to consume about 1 watt of power consumption. This makes its current main target applications limited to home TVs, car TVs and laptops with large Battery Capacity or AC power, PMP (Portable Multimedia Player), portable TV terminals, PDAs and smartphones. The battery capacity is small and can only sigh.
18650 Li-ion Battery Pack,Lithium Ion Batteries for Sale,18650 Battery Pack for LED Light,18650 Li-ion Battery Pack
Shenzhen Powercom Electronics Co., Ltd. , https://www.expowercome.com