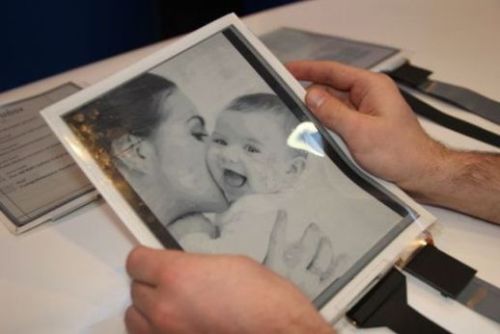 In the present day, under the tablet computer that can be seen in the streets and alleys, a new kind of screen that is as thin as paper, can be bent freely and will not fall is about to appear in front of the public. On the desk of the future, there may be various "paper" instead of computer monitors.
The screen, developed by Queen's University of Canada and Plastic Logic and Intel Labs, is expected to revolutionize the way people use computers today. Developers plan to launch this screen at this week's Las Vegas Consumer Electronics Show. Unlike traditional window interfaces, we can interact with several or even a dozen or more "paper screens," each with different applications. They can also be used as electronic paper books, turning the page by bending the screen. Roel Vertegaal, director of the Human Media Lab at Queen's University, said: "With a few interactive pages (PaperTabs), we can easily handle a large number of documents."
For example, the user can connect the screen displaying the mail draft with the screen displaying the image and send the image as an attachment of the mail. This connection can be folded or it can simply roll up a corner of the screen. Similarly, several paper screens can be placed together to make a larger screen.
Intel Corporation claimed that this technology will eventually replace the traditional computer screen. The company's scientist Ryan Brotman said: "In 5 to 10 years, most computers, whether it is ultrabooks or tablets, look and feel It will be like colored paper."
"Paper Computers" can store and display thousands of documents. Monitors, printers and piles of printing paper will no longer be needed in future offices. And unlike traditional tablet computers, paper screens can be positioned with each other and seamlessly connected. For example, when the paper screen is put up, the document above it will become a thumbnail, similar to the icon on the desktop; when you pick up the screen, or click the switch button, it can be restored to full-screen display .
The upcoming product will feature a 10.7-inch flexible touchscreen developed by Plastic Logic and a second-generation Intel Core i5 processor. Indro Mukerjee, CEO of Plastic Logic, said: "In the sense of product interaction, Plastic Logic's flexible plastic screen is a complete transformation that allows natural interaction between humans and e-paper, and more than the current glass screen. Lighter, thinner and more durable."
Power Plug Adapters,Output 12V 1A Power Adapter,12V 1A USB Power Adapter,12V 1A Electrical Power Adapters
Dongguan baiyou electronic co.,ltd , https://www.dgbaiyou.com