In order to meet the multi-band, multi-mode and multimedia application requirements of 3G mobile phones, it is a trend to package devices such as PAs, filters and switches through modular technology. But to ensure that these front-end solutions are easy for customers to use and port, they also require a lot of ease of use and flexibility. What kind of solution can solve this contradiction?
This article refers to the address: http://

RFMD's RD7200 is a tri-band WCDMA+ quad-band GSM/EDGE cellular front-end reference design that integrates all switching, filtering, and transmission power amplifier (PA) functions into one complete platform. Available in 3 different versions, the RD7200 supports 2/5, 1/8 or 1/2/5 WCDMA band combinations.

The WCDMA transmission part of the RF7200 includes RFMD's high-efficiency linear power amplifier RF720x series, RF1194 Switching Filter Module (SFM), and a widely used third-party WCDMA duplexer. Due to the increased ease of use, each PA of the RF720x also provides a coupled output power port to monitor the transmit output power.

The WCDMA/HSPA++ Power Amplifier (PA) RF720x family consists of four PAs that accommodate all major WCDMA/HSPA+ bands and band combinations and are optimized for reference designs from industry leading 3G chipset vendors.

Each of the RF720x family's amplifier power amplifiers is implemented with a frequency-specific, high-efficiency linear power amplifier that reduces current consumption when output power levels are reduced. By using adjustable bias current and optimizing the PA, the RF720x can further improve low-power efficiency by maintaining a linear output of three digital power modes while achieving an ideal output power range.

Each PA of the RF720x includes an integrated output power coupler, eliminating the need for an external coupler in the chipset that monitors and regulates PA output power. The integrated power coupler also greatly reduces the board area required for front-end design and reduces bill of materials (BOM) costs for mobile terminals. By combining the highest-volume WCDMA/HSPA+3G band combinations in one module, the RF7201 and RF7202 further reduce board space and simplify design. By combining multiple PAs in the RF720x family, handset manufacturers and platform vendors can design products that meet most WCDMA/HSPA+ band combinations, including Band 1/8, Band 1/5, Band 2/5, Band 1 2/5 and band 1/3/8.

For quad-band GSM/GPRS/EDGE, tri-band WCDMA/HSPA++ 3G multimode handsets, the RF1194 integrates single-pole, nine-throw (SP9T) pHEMT switches, quad-band GSM/GPRS/EDGE transmit low-pass filtering (LPF) and four GSM/GPRS/EDGE Receive (Rx) Surface Acoustic Wave (SAW) filter. With four symmetric GSM/GPRS/EDGE Rx ports and three symmetric high-linearity WCDMA/HSPA+ Tx/Rx ports, the RF1194 simplifies the design of 3G multimode terminals by providing a flexible front-end solution with platform capabilities.

The GSM/EDGE portion of the RD7200 front-end reference design includes the RF3161 large-signal polarity-modulated PA and the receiver-side SAW filter integrated in RF1194.

The RD7200 layout is based on the PCB specifications commonly used in today's mobile phone designs and can be easily ported to the customer's board design. In addition, due to the high integration of the RD7200, the total board area of ​​the tri-band WCDMA front-end design is only 200mm2, and the footprint of the two-band WCDMA is only 167mm2.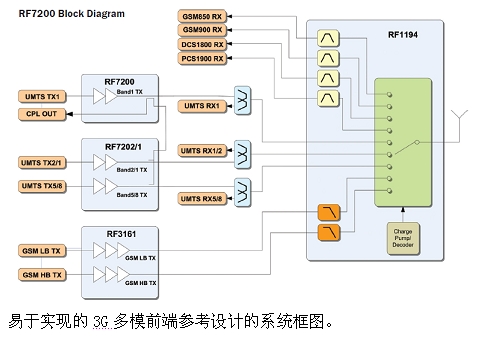 Indoor Fiber Optic Cable,72 Core Indoor Fiber Optic Cable,Indoor Single Mode Fiber Optic Cable,48 Core Indoor Single Mode Fiber Optic Cable
Fiber Optic Cable Co., Ltd. , http://www.cnpatchcord.com